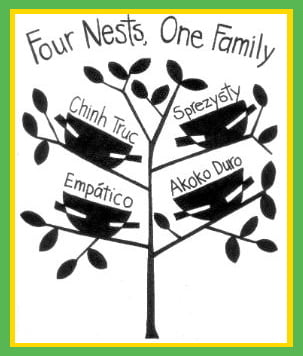 About the Nest System at Rockledge

The Rockledge Nest System is used to promote positive character, academic success, school spirit, a family atmosphere, and a culture of excellence in our school. Staff carefully assign students and their siblings to a Rockledge Nest. The students will remain a member of the same nest throughout their entire tenure at Rockledge. The nest system will be used as a vehicle to inspire and motivate students to be their personal best-self, every day. Students may earn nest points by following school rules, also known as the Rockledge Rules and Eggspectations (expectations), and by demonstrating positive character traits aligned with our character education program.

Four Nests, One Family
Empático - Empathy (Spanish)
Sprezysty - Resiliency (Polish)
Chinh Truc - Integrity (Vietnamese)
Akoko Duro - Confidence (Twi)
Nests Points
Students will earn points by following the Rockledge Eggspectations (expectations) and demonstrating positive character traits.  Nest points will be awarded to students as individuals as well as their assigned nests.  
All Rockledge staff are able to award points to students.  
At the culmination of each quarter, school-wide celebrations will be held to recognize the nests for their accomplishments and contributions to our school's positive culture and success.  
Additionally, the Rockledge family will celebrate the quarterly nest-point leader!  We appreciate our community's support for our school and nests as we continue to SOAR together!