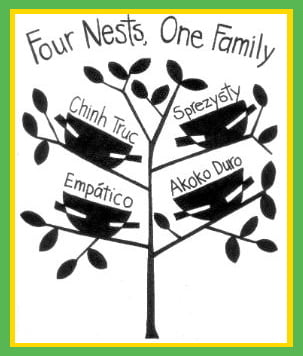 About the Nest System at Rockledge

The Rockledge Nest System is used to promote positive character, academic success, school spirit, a family atmosphere, and a culture of excellence in our school. Staff carefully assign students and their siblings to a Rockledge Nest. The students will remain a member of the same nest throughout their entire tenure at Rockledge. The nest system will be used as a vehicle to inspire and motivate students to be their personal best-self, every day. Students may earn nest points by following school rules, also known as the Rockledge Rules and Eggspectations (expectations), and by demonstrating positive character traits aligned with our character education program.

Four Nests, One Family
Empático - Empathy (Spanish)
Sprezysty - Resiliency (Polish)
Chinh Truc - Integrity (Vietnamese)
Akoko Duro - Confidence (Twi)
Nests Points
Students will earn points by following the Rockledge Rules and Eggspectations (expectations) and demonstrating positive character traits. Nest points will be awarded to students as individuals as well as their assigned nests. All Rockledge staff and bus drivers can award points to students. Parents and guardians may earn nest points by wearing their nest shirt or nest color when visiting or volunteering at Rockledge. These points will be awarded in the front office. At the culmination of each quarter, school-wide celebrations will be held to recognize the nests for their accomplishments and contributions to our school's positive culture and success. Additionally, the Rockledge family will celebrate the quarterly nest -point leader! We appreciate our community's support for our school and nests as we continue to SOAR together!
Rockledge Rules and Eggspectations
Responsibility
-Follow directions quickly the first time.
-Students concentrate on schoolwork during instructional time.
-Stand up to answer all questions in the classroom, answer in a complete sentence.
-Return homework by the assigned due date.
-Transition swiftly, timely, orderly, and quietly in all locations.
-While riding the school bus, remain seated, keep your feet out of the aisle, speak quietly with seatmates, follow the bus driver's and bus patrols' instructions.
-While in the cafeteria, remain in your seat, raise your hand if you need assistance, speak quietly to your neighbors, and respond respectfully to the cafeteria staff's directions.
-Be responsible for your belongings. Remember your materials (coats, lunchboxes, etc.) when transitioning throughout the classroom and building.
-Be as organized as possible. Everything has a place. Return items to where they belong.
Respect
-Students respect each other.
-When responding to any adult, answer by saying, "Yes ma'am", "No sir", or use their name.
-Show respect by facing the speaker politely and remain quiet while the speaker is talking.
-If someone bumps into you or you bump into someone, say excuse me, even if it was not your fault.
-During discussions, respect other students' comments, opinions, and ideas.
-If asked a question, respond respectfully. It is polite to follow up with a question.
-While a peer is speaking, look respectfully at the speaker.
-Greet visitors and make them feel welcome. When meeting new people, face the speaker and repeat their names.
-Always say, "Thank you" when given anything. When you receive something, remain respectful and be mindful of how your response may be received.
-During an assembly remain quiet and respectful unless the presenter asks for participation.
Caring
-Learn all teachers' and students' names. When greeted by name, return a greeting with that individual's name.
-When working in a group, accept and respect your partners and their feelings.
-When someone in class does something well or wins a game, congratulate that person.
-If you win or do something well, feel proud and remain humble. If you lose, remain calm.
-At recess, include everyone and anyone who wants to play. Take turns and share the equipment.
-Hold the door for others immediately behind you.
-When you cough or sneeze, cover your mouth with the inside of your elbow. When you burp, cover your mouth, and turn your head away from others. Afterward, say, "Excuse me."
-Surprise others by doing random acts of kindness.
Citizenship
-We are a Family. We all work together to make Rockledge a safe and welcoming place to learn.
-Follow the same expectations with all staff members, including guest teachers.
-To avoid fights, students use kind words to solve problems or ask an adult for help.
-To prevent bullying, Rockledge students always include each other and treat others the way you want to be treated.
-If anyone is bullying you, inform a staff member.
-When walking in line, keep your arms at your sides and move quietly. Remain in your place and keep up with your teacher.
-Leave your surroundings better than you found them.
-Use the restroom quietly to avoid disturbing classes in session. Turn off running water after you wash your hands.
-On field trips, follow the PWCS Code of Behavior and Rockledge Rules and Expectations. Only make positive comments about the place you are visiting. Say thank you to every chaperone.
-Be a good role model for other students.